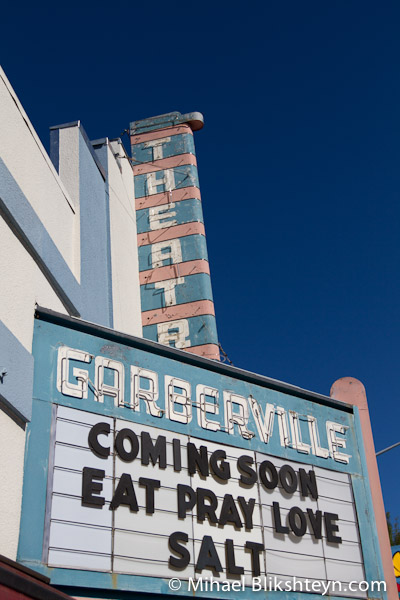 I was planning on reminiscing about my last day with the Ocean Salmon Project in Shelter Cove, and how a year ago, I emerged there from a camping trip that would eventually bring about my move to northern Cali. Instead, a 2-mile side-track to Garberville on the way to Shelter Cove revealed a small treasure trove of pictures.
I looked up the movie "Salt". It's about an alleged Russian spy. How appropriate. Angelina Jolie. Julia Roberts. Perhaps I should be able to tell them apart. Or, combining the two movies together, and the leading actresses, and throwing in refined sugar for good measure, would've made for a more interesting plot. At least less chicky.
Treats is the ice cream parlor. The only place in town to get a milk shake or ice cream. Or so I've been told anyway, by folks in Redway, two miles away. That's what brought me to Garberville this time. "Treats for everyone", to quote Kate.
What can I say about the income tax + guns shop? It also houses a visitors center and a pot accessories shop. Thus the formula: pot + guns – taxes = happy tourists.