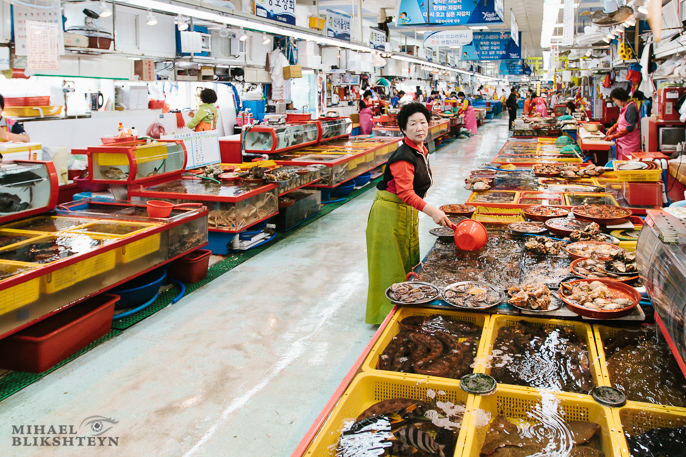 Busan (formerly, Pusan), South Korea's second largest city, is known for many things. It is Korea's largest port city, the country's commerce hub. It is a busy and popular beach, also Korea's largest. Of Korea's largest cities, it's also nearest to Japan. My interests in Busan were slightly less touristy – I wanted to see an old graduate school friend and explore the famed Jagalchi Market.
The Jagalchi Fish Market (자갈치시장) is Korea's largest seafood market and one of the largest live seafood markets in the world. Located on the edge of the Nampo Port, it's a landmark, but often ignored by tourists because of its fishy history. In its modern reincarnation, it is a 6-story well-lit building with lower floors occupied by live fish tanks and dried fish stands and upper floors used for offices. Most of the people selling fish at the market are older, tough-looking women called Jagalchi ajumma, meaning "middle-aged" or "married women". They are not very talkative and look like they mean business – persuading them to be photographed is a challenge.
Live fish and shellfish are caught and delivered daily. The selling floor is lined with colorful live tanks brimming with a variety of delicious marine life – eels, squid, shellfish and bivalves. The market is very vibrant, even overwhelming. Reds, yellows, blues – of baskets, fish tanks, and aprons – merge into a kaleidoscope of colors stretching as far as the eye can see.
The market and the surrounding neighborhood are lined with seafood restaurants and food stalls, serving raw and cooked fish and shellfish. If Busan is on your itinerary, don't miss this unique place. It will linger in your memory long after your trip is over.