The bobbing of the taxing plane on an uneven tarmac meant I have finally landed in Petropavlovsk-Kamchatsky, Kamchatka. My stop here was only temporary. After a few days of waiting in an old Soviet-built hotel for the weather to clear, I was given the green light. The MI-8 helicopter, the workhorse of the Russian aviation of the Russian Far East, was taking me to Ozernovsky, a town of 2,000 people on the southwestern coast, about an hour away as the crow flies.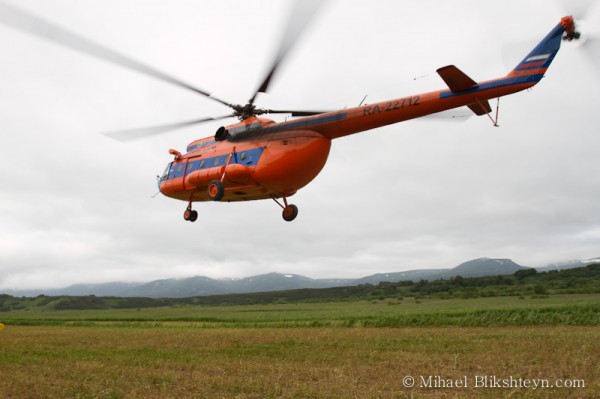 The MI-8s were originally designed for military use, but are now widely used to carry people and cargo all over Kamchatka. They are not cheap, costing about $2,500/hr. For that amount of money, you'd think it would be at least a comfortable ride, but half a dozen times I flew on them last summer, I had to balance myself on containers of food, duffel bags, wood pellets, or be stuffed as a sardine with about 15 other people. There are two benches that sit 8.
It takes three people to fly and navigate them, although I sometimes wondered if it was part of job security. Photo below, taken by Tikhrun Shpilinuk, was taken on one of our flights about a kilometer up in the air.
But Kamchatka is about the landscape. A very active region, full of mountains and volcanoes, criss-crossed by rivers, it is a sight of beauty and awe. Frozen in winter, under a thick blanket of snow, it made me appreciate how wild and severe it was. Almost every mountain top had bear foot prints descending into the valleys below.
By May – June, the white blanket is yanked off by the Spring, revealing lush green fields that burst into bloom by August. The transformation is as unbeliveable as it is breath-taking.
Also see Part I: Kamchatka.