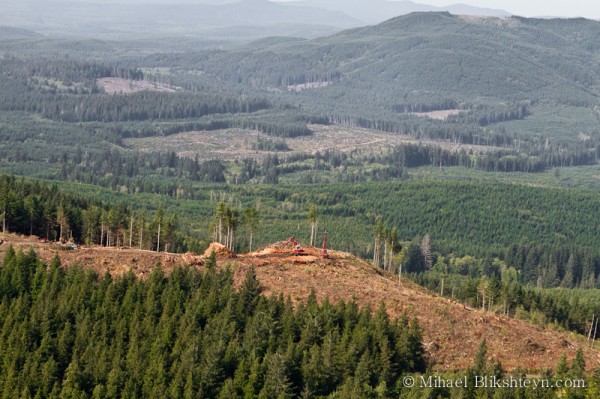 In October of 2011, I made a couple of trips in a small fixed-wing plane over the Olympic Peninsula, Washington to photograph key rivers and watersheds for the Wild Salmon Center. The Wild Salmon Center is a Portland, Oregon based international NGO that works around the Pacific Rim to preserve healthy salmon habitats and to conserve wild salmon stocks. The flights were an adventure, complete with a breakdown on an abandoned air strip near Forks, Washington, the site of the Twilight series. In my next post, I will tell the tale of our adventure and post photos of the rivers from that shoot.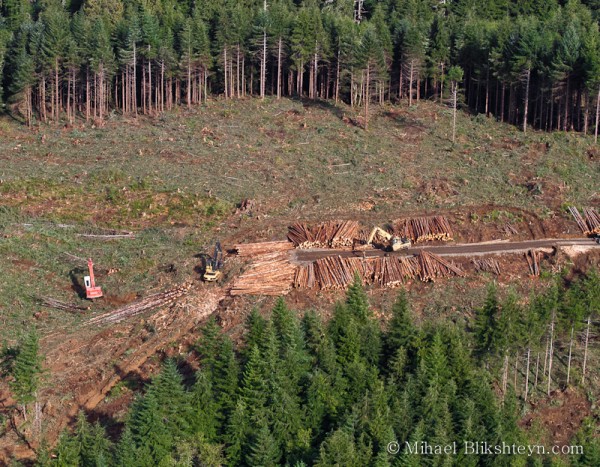 While flying above twisted rivers and forested mountains, I spotted several mountain-top logging operations. The Olympic Peninsula contains a number of state and national parks as well as major salmon rivers of the Pacific Northwest. It was one of the last unexplored and uncharted territories of the Lower 48 states, but became a major logging site in the 20th Century. Although the days of wide-spread intense clear-cutting are gone, shaved mountaintops and valleys are cut deep into the landscape.
With new technological innovations, the remnant logging is taking place on mountain tops, which were previously inaccessible to this activity. I was surprised at the efficiency and speed of trees being fallen. As I was flying past a logging camp, I saw the arm of a tractor grabbing a tree and carefully laying the tree trunk down, then reaching for the next tree and laying it  down within a minute.
Yet I still use paper napkins.