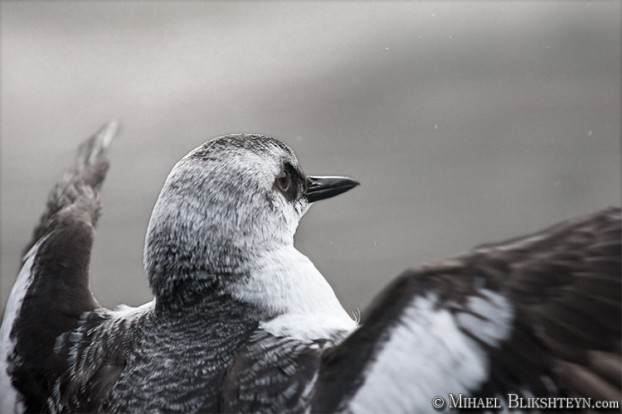 As I was driving along Highway 101 to my new temporary home town of Arcata, California, I stopped overnight in a charming fishing town of Newport, Oregon. Besides great CouchSuring hosts, another highlight of Newport was the Oregon Coast Aquarium, with their Passages of the Deep and the Sea Bird Aviary. Even though it was January, and the birds weren't in their bright mating outfits, it was still very enjoyable to watch and photograph their frolics.
The very top photo is of the Common Murre or Common Guillemot in its winter plumage. According to Wikipedia, "It has a circumpolar distribution, occurring in low-Arctic and Boreal waters in the North-Atlantic and North Pacific. It spends most of its time at sea, only coming to land to breed on rocky cliff shores or islands". The photo just above is of a Black Oystercatcher. Again, from Wikipedia: It is "found on the shoreline of western North America. It ranges from the Aleutian Islands of Alaska to the coast of the Baja California peninsula".
The last photo is of the Tufted Puffin, albeit in its winter plumage, which would account for the lack of white ear "tufts" and the chalk-white face.