The biggest celebrity in Juneau, Alaska is arguably the Mendenhall Glacier. A white-bluish tongue sticking out from the vast Alaska-Canadian icefield, it is one of the most popular and interesting places to explore. Commercially, bus loads of tourists are delivered to it many times a day to snap photos from a designated photo point. Formations of helicopters buzz back and forth, taking better-paying clients to the icefield, often for a sled dog ride because, as you have correctly guessed, it was the thing to do in Juneau in years past.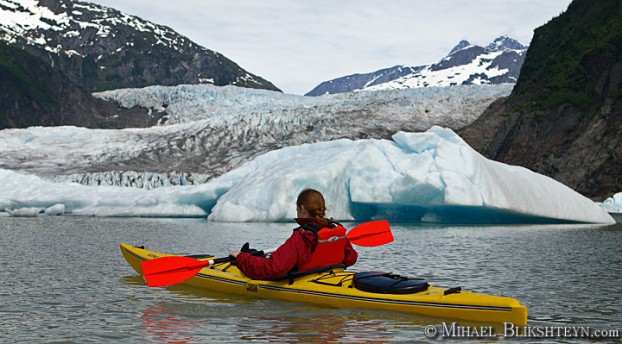 But for the rest of us, the Mendenhall Glacier is special for the variety of hikes it offers around it and kayaking, skiing and skating in front of it. One of the easy light hikes that I often do with friends and family from out of town is a loop trail on the east side of the glacier. However, one of my favorite hikes is along the West Glacier trail and over the rocky outcropping sticking out into the Mendenhall Lake, to the icy caves of the glacier.
Last November, three of us, to say nothing of the dog, set off to explore the ever-changing face of the glacier. Right at the head of the trail, we caught a glimpse of Romeo, our other celebrity – a black wolf that has been coming down from the mountains for the past several years to spend his winters around the glacier.
The glacier was as charming as usual. I haven't been to it in half a year, and it's a bit unnerving to see how quickly it's receding. In the eight years I have been in Juneau, it has lost a large chunk of its face, revealing more rocky mountains on either side. It's said to see an old friend age so fast.
But the beauty of the dark blue ice caves lining the face of the glacier quickly took my mind off everything else. Those caves are very dynamic, constantly expanding and contracting, appearing and disappearing. No two hikes to them are ever the same.
On the way back, fog came over just as we were summiting the rocky outcropping, creating a surreal feeling of being lost in a strange land.
To see my friend Chelsea's account of the hike, see her posting.