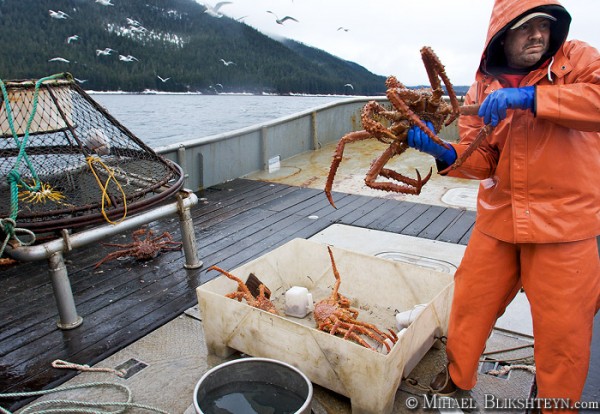 I was lucky to meet Charlie – captain of F/V Erika Ann – while photographing Tanner crab processing at the Alaska Glacier Seafoods in Juneau, Alaska. He graciously invited me to accompany him on a two-day golden king crab fishing trip to photograph the fishery in Lynn Canal in Southeast Alaska. As he was leaving in a couple of hours when I met him, I had to rush home across town to get my photo gear ready and pack my Grundens raingear and some layers in a duffel bag. Given that it was February, unpredictable and potentially  cold in Lynn Canal, I had to pack more than usual, not knowing whether the temperature would drop and the wind would pickup overnight.
F/V Erika Ann is a very comfortable 59-foot boat based out of Petersburg, Alaska. Besides Charlie the captain, it had two great crew – Paul and Jon from Petersburg and Wrangell, respectively. Like most pot-fishing boats in Southeast Alaska, F/V Erika Ann uses cone-shaped pots. Fishing vessels crabbing in the Bering Sea are often larger and thus have the space for large square 700-pound pots. Three bait cups, stuffed with chopped herring and pink salmon, are suspended in each cone pot. The pots are light enough that they can be pushed off the landing rail by a single person. The pots are also not "long-lined", i.e., not tethered together by a line that could stretch for miles. Rather, the whole assemblage consists of a pot attached to a line stretching to the surface, where it is attached to two buoys that float on the surface.
Pots are left to soak for one to several days, long enough to attract king crab and welcome them inside. To retrieve a pot, a three-prong hook is thrown  over the line connecting the two buoys. The buoys are pulled in by hand and the line is put on the hydraulic wheel which pulls the pot up from the bottom. The line is accurately coiled, and often put in a tub. Once the pot is at the surface, it is hooked by a hook from the crane and moved on the landing square rail on deck. The bottom of the cone pot is then opened, and crab fall into a tub. Once on deck, crab are sorted and all females and sub-legal males (smaller than 16.5 inches wide, I believe) are tossed back to live and love. The keepers are put through a chute into a holding tank underneath the deck, which is filled with circulating sea water that keeps them alive and well.
Usually, when crab is delivered live to processing plants, they are cooked and frozen. However, F/V Erika Ann was fishing for a niche market that delivered fresh live crab to markets and restaurants down south, primarily in Seattle. Once back at the dock, crab was quickly offloaded into large square boxes lined with ice packs, and flown to Seattle. Once at their final destination, they were "revitalized" by being submerged in cold sea water, and then sold live.